I Create Impressive Online Presences with Custom WordPress Websites.
Are you looking for a professional WordPress website developer who can bring your online presence to life? Look no further! I offer top-notch WordPress development services that will help you establish a strong online presence and achieve your business goals. With my expertise in WordPress, I can create fully functioning websites that are tailored to your specific needs.
Let's Build Your Dream Website Today!
My Portfolio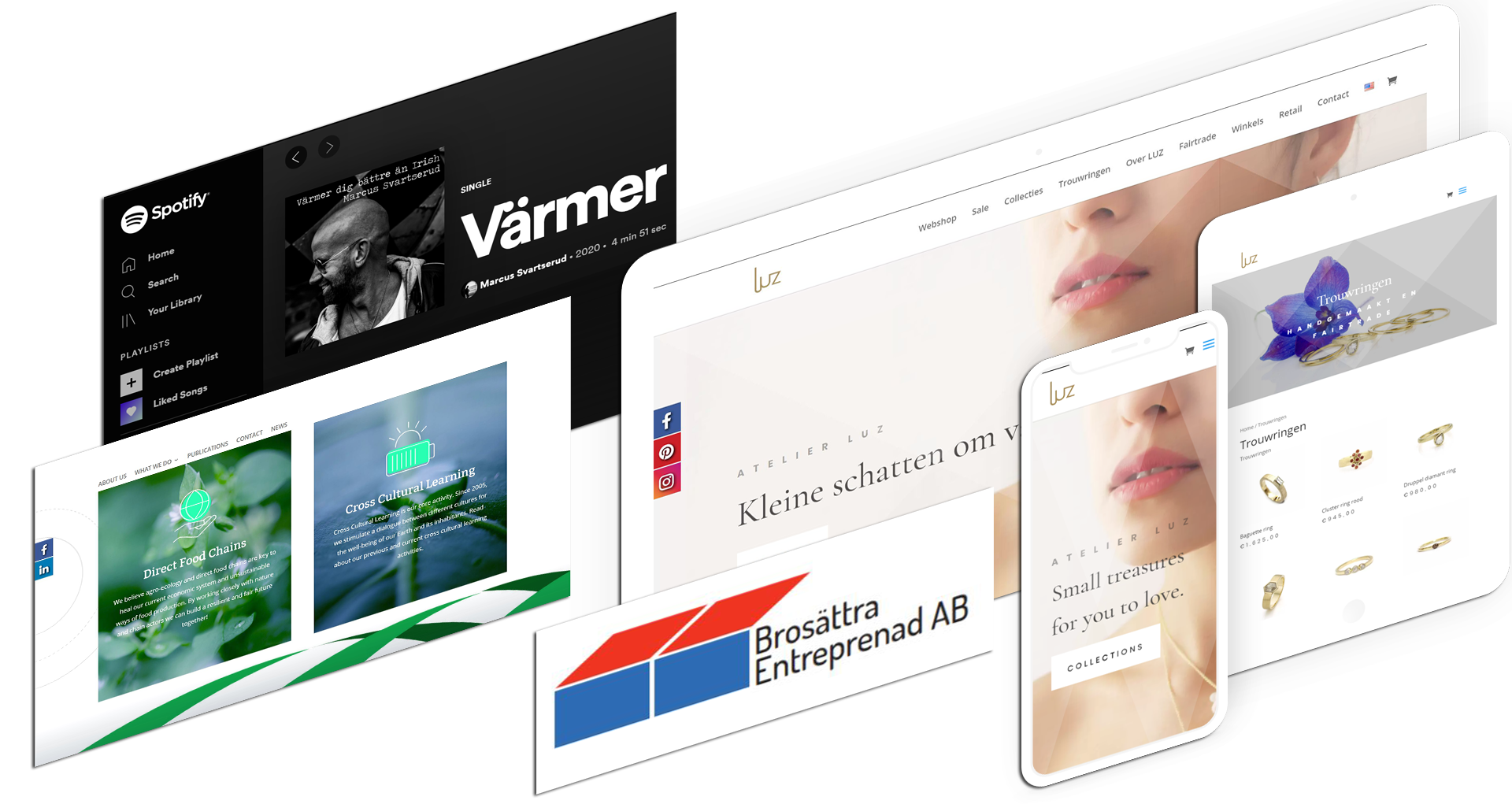 Let's Build Your Dream Website Today!
Are you tired of struggling with outdated and poorly designed websites? Do you want a website that truly represents your brand and captivates your audience? Look no further! I specialize in crafting beautiful and fully functional websites that not only impress visitors but also drive results.
Say Goodbye to Frustrating Website Woes
Are you currently struggling with a website that's outdated, slow, or not generating leads? It's time to leave those headaches behind. Let me take care of the pain points for you. With my WordPress website development services, I can transform your current website into a high-performing platform that brings you tangible results. Say goodbye to slow loading times, broken links, and unresponsive design.
Fully Customizable WordPress Websites
I understand that every business is unique, and your website should reflect that. My WordPress websites are fully customizable, whether you prefer to start from a template and customize it to your brand's identity or build a website completely from scratch. I will work closely with you to understand your vision and create a website that not only looks stunning but also functions seamlessly.
Support, Maintenance, and Hosting Services
I believe that my commitment to your success doesn't end with the launch of your website. I offer ongoing support and maintenance services to ensure that your website remains secure, up-to-date, and performing at its best. Additionally, I provide optional hosting services, taking the hassle out of finding a reliable hosting provider and managing the technical aspects of your website.

Website Development
I have been developing websites for over 25 years. Most of my websites are now built with WordPress.  The core functionality of this platform allows for great customized, responsive mobile sites with high performance and high security that are easy for end users to manage
Maintenance & Updates
Today, websites are much more complex. If you use them well, they can be marketing machines that help you get new leads and customers. But because they are more complex, it takes more work to maintain them.
Customized Templates
Template sites are significantly less expensive than custom sites. Using a template means that most of the website coding is in place. That's why template sites are much more affordable than custom sites, although you or i will still have to spend time customizing the template and implementing the content.
Built From Scratch
Modern web design is more involved than creating an attractive website. Consideration of user experience, search engine optimization, ease of use, and technical details are just a few elements that are involved in developing a website that is designed to perform in today's competitive marketplace.

Design
I enjoy designing for the web and print, exploring creative and intuitive design to breathe life into a tired and outdated website or logo. Modern technology requires a modern design approach which is clean, mobile friendly and fast.  
Website Design
Professional website design & development, crafted with fresh ideas, using latest cloud technology, sprinkled with lots of love & passion.
Branding & LogoS
To increase your success as a business owner, all of your marketing materials should ideally comply with the same visual identity guidelines. Solidifying your brand identity creates instant recognition and respect.
Content Strategy
Content strategy is intertwined into every step of my web design projects, particularly the initial research and data analysis. In order for your website to perform well, it needs to satisfy certain goals. Identifying your content needs early on and building a solid strategy is the key to success.
Frequently Asked Questions
Q: Can you help me migrate my existing website to WordPress?
A: Absolutely! I have extensive experience in website migrations and can seamlessly transfer your existing website to the WordPress platform.
Q: Do you provide website updates and content management services?
A: Yes, I offer website updates and content management services as part of my ongoing support and maintenance packages.
Q: Can I update my website content on my own?
A: Certainly! I will provide you with a user-friendly interface that allows you to update your website content easily, even if you have no coding experience.
Don't miss out on the opportunity to create a stunning WordPress website that leaves a lasting impression on your visitors. Contact me today for a free consultation and let's get started on building your dream website!
A Deeper Dive into my Custom WordPress Websites
When you choose my WordPress website development services, you can expect a seamless and comprehensive experience. I focus on the following key aspects:
1. Strategic Planning:
I start by understanding your unique business goals and target audience. This helps me develop a strategic plan to create a website that aligns with your objectives.
2. Customization:
Whether you prefer a template-based approach or want a website built from scratch, I've got you covered. I'll customize every element to match your brand identity, ensuring your website stands out from the competition.
3. Responsive Design:
With the increasing use of mobile devices, having a responsive website is essential. I prioritize responsive design, ensuring that your website looks and functions flawlessly on all devices and screen sizes.
4. User-Friendly Interface:
I believe in empowering my clients with the ability to manage and update their websites with ease. My user-friendly interface allows you to make content updates and manage your website effortlessly.
5. Performance Optimization:
Slow loading times can cost you valuable leads and customers. I optimize your website for speed and performance, ensuring that visitors have a seamless browsing experience.
6. Security and Maintenance:
Your website's security is my top priority. I implement robust security measures and provide ongoing maintenance to keep your website safe, up-to-date, and protected from vulnerabilities.
Ready to Transform Your Online Presence?
Don't let your website hold you back from achieving your business goals. Contact Sam Brooksbank today to schedule a free consultation and let us create a fully functioning WordPress website that drives results for your business.